New addition to the household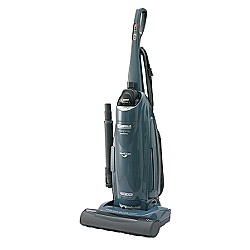 On Sunday, during my usual cleaning ritual, our trusty vacuum cleaner gave a last gasping rattle, coughed out a small cloud of foul smelling smoke, and died. It had been a loyal retainer of 9 years - we had a moment of silence for it, then relegated it to the back porch until it can be sent to my father-in-law for an autopsy.
Needless to say, a house with 2 cats cannot without a vaccum be, so yesterday Chris and I went to Sears in search of a new one. We looked through the dazzling array of servants, all gleaming and eager to prove their cleaning utility, but
this fine fellow
looked at me and said "I'll do for you well, ma'am, you'll not be dissappointed." We decided, after looking at all the attachments, debating the merits of bags vs. bagless, that he would, indeed, do very well for us, and so we took him home.
It should not surprise you that my plans for this coming weekend include vacuuming the house from floor to ceiling, just to try out all the new features and sheer suction power of this new, improved appliance. No doubt I'll obsess over getting the Intelli-clean lights to turn green.
I think I'll call him Willoughby - I've been in an Austen sort of mood.